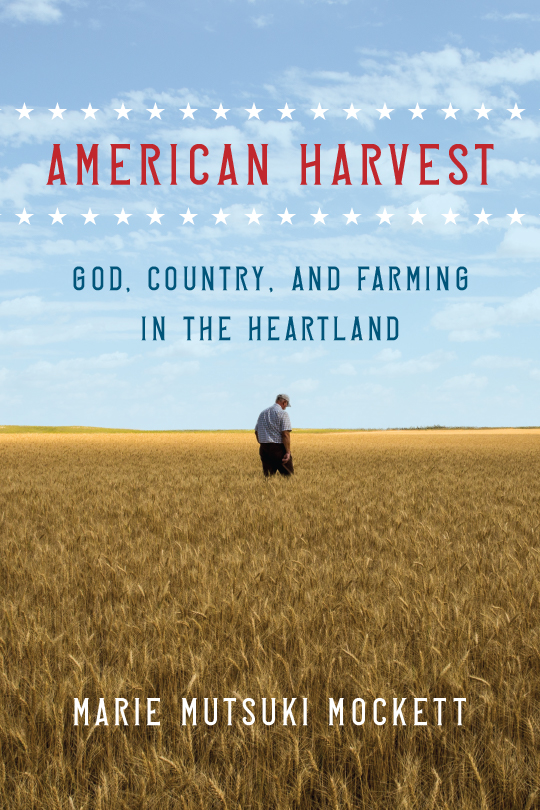 The Journey | The People | The Mockett Family
An epic story of the American wheat harvest, the politics of food, and the culture of the Great Plains
For over one hundred years, the Mockett family has owned a seven-thousand-acre wheat farm in the panhandle of Nebraska, where Marie Mutsuki Mockett's father was raised. Mockett, who grew up in bohemian Carmel, California, with her father and her Japanese mother, knew little about farming when she inherited this land. Her father had all but forsworn it.
In American Harvest, Mockett accompanies a group of evangelical Christian wheat harvesters through the heartland at the invitation of Eric Wolgemuth, the conservative farmer who has cut her family's fields for decades. As Mockett follows Wolgemuth's crew on the trail of ripening wheat from Texas to Idaho, they contemplate what Wolgemuth refers to as "the divide," inadvertently peeling back layers of the American story to expose its contradictions and unhealed wounds. She joins the crew in the fields, attends church, and struggles to adapt to the rhythms of rural life, all the while continually reminded of her own status as a person who signals "not white," but who people she encounters can't quite categorize.
American Harvest is an extraordinary evocation of the land and a thoughtful exploration of ingrained beliefs, from evangelical skepticism of evolution to cosmopolitan assumptions about food production and farming. With exquisite lyricism and humanity, this astonishing book attempts to reconcile competing versions of our national story.
Order:
Amazon
Barnes and Noble
Indie Bound
Praise
"Books enable readers to broaden their lives, and this one―in which Marie Mutsuki Mockett joins a crew harvesting wheat―is a doozy, as Studs Terkel's were. . . . I never knew a person on a wheat-harvesting crew, and now I do, thanks to Mockett's vivid and true account."―Annie Dillard
"A patient, radiant, kindly book that in its own way determinedly adds a brick to the shining city on the hill where Americans will understand each other."―Francis Spufford
"Marie Mutsuki Mockett describes the American plains as having 'a subtle gradation in topography that suits a ruminating mind,' and the same can be said of her stunning new book. . . . Her insights are ones we could all stand to learn from right about now."―John Jeremiah Sullivan
"In the best tradition of travel literature, American Harvest is a discursive odyssey, an exploration of self, others, faith, and a landscape of terrible beauty."―Randall Balmer

"Traveling the West with a group of grain harvesters is a great idea for a book, and Mockett, the daughter of a Nebraska farm family, gives her whole self to it. . . . A beautiful and powerfully moving book."―Ian Frazier

"Marie Mutsuki Mockett's American Harvest is a book about this country unlike any other. Mockett's account of the harvest is riveting, and the way she navigates her own plural identity as she travels with the combines is brilliant. This is a stunning, astonishing accomplishment."―Susan Cheever

"An extraordinary feat of empathy set against a land of reds, whites, and blues, American Harvest doesn't just speak to the great divide―it dares to bridge it."―Marlon James
"This magnificent book took me on a journey I knew nothing about, following a crew of wheat harvesters from Texas to Idaho. Machinery, birds, geology, churches, debates, friendships, histories, an eclipse, it's all here, seen and offered with gentle questioning and so much heart."—Megha Majumdar
"Throughout, Mockett's portrait is nuanced, revealing those overlooked people in counties likely to have voted for the sitting president to be worth paying attention to."—Kirkus Reviews
"A sprawling examination of American history, identity, and food. . . . What ultimately sets American Harvest apart is the fact that Mockett scrutinizes both sides of the divide, not just the 'other half.' . . . [Mockett] understands that transparency on her part will advance her efforts as a cultural ambassador. . . . Her forthrightness engenders trust among the harvesters and her readers as well. . . . [American Harvest is] a masterclass of reporting with humility."—The Believer
"A highly readable, multifaceted look in to the topics of faith and living in America today. The level of intimacy within these pages invests readers not only in the unfolding human story but also in the history of the land."—Library Journal
"Mockett, writing with a gentle self-consciousness, offers a compassionate portrait of conservative evangelicals, along with lucid musings on agricultural science, Native American history, and the quiet majesty of the Great Plains." The New Yorker
"The inheritance of territory gifted by God is an animating myth in US history, a way of soft-selling its imperial ambitions." Bookforum
"American Harvest …has intelligent things to say about race, faith and food, [and] is a nimble blend of personal reflection and incisive social history. Consistently thought-provoking, it also features lots of keen-eyed nature writing…. Mockett's sincerity and curiosity — and her long-standing connection to the region — make for an insightful book."—The San Francisco Chronicle
"American Harvest is a sprawling story of pilgrimage, spiritual and personal and cultural, and Mockett's gaze is both penetrating and sweeping. She reports on everything from the religion to the culture to the history to the geology that together form the Great Plains. As my mother would say, she doesn't miss a thing.…. Posing questions about race, religion, and science in Trump's America—and doing it in a region where few look like her and every day means manual labor—requires courage of both intellect and body."—The Christian Century
"One of the most important books of 2020″—The Inside Hook
"A rich blend of science, philosophy and spirituality."—Star Tribune (Minneapolis)
"[T]his author has the kind of deft touch with the English language that would make me read a book by her, no matter what it was about…At the end of the trip, Mutsuki Mockett bemoans the fact that she wants her "old self to reappear" — but it won't. The Midwest has changed her. That, perhaps, is her greatest talent: the willingness to examine, even abandon, her own biases before she casts stones. That's a lesson in empathy that we can all learn from, in the time of coronavirus, in the time of presidential elections — and beyond."—Financial Times
"In her new book, American Harvest: God, Country, and Farming in the Heartland, journalist Marie Mutsuki Mockett reckons with that complexity with more care and maturity than nearly any other writer operating in what has become a crowded and tedious space: the Trump-country travelogue."—Christianity Today
"From bleeding sunsets in Texas to golden wheatfields in Oklahoma to the rolling plains of western Nebraska, Mockett documents every stop in the wheat harvesters' odyssey with striking lyricism and intricate detail. Her writing effortlessly summons these diverse landscapes into the reader's imagination, revealing the overlooked yet enduring beauty of America's heartland." America Magazine
"New and Noteworthy"—New York Times
"Putting moral judgements on farmers, good or bad, is not useful. American Harvest understands this & succeeds because it puts complexity—of land & people—in the center."—LitHub
"American Harvest is 381 pages long, plenty of time and space to bump up against each other, knocking away (or at least, smoothing down) our sharp corners of cultural misunderstanding."—Columbia Journal
AMERICAN HARVEST JOURNEY
About fifty percent of grain produced in the United States is harvested each year by "custom harvesters." These are teams of men and a few women who cross the country, following the wheat as it ripens. The earliest fields are usually located in Texas, and ripen in early May. Very generally, wheat will ripen northward, at twenty miles a day. In American Harvest, the author, Marie Mockett, crosses Great Plains with a custom crew, beginning Texas, and then working north through Oklahoma, Kansas, Colorado, Nebraska and then through Wyoming to Idaho.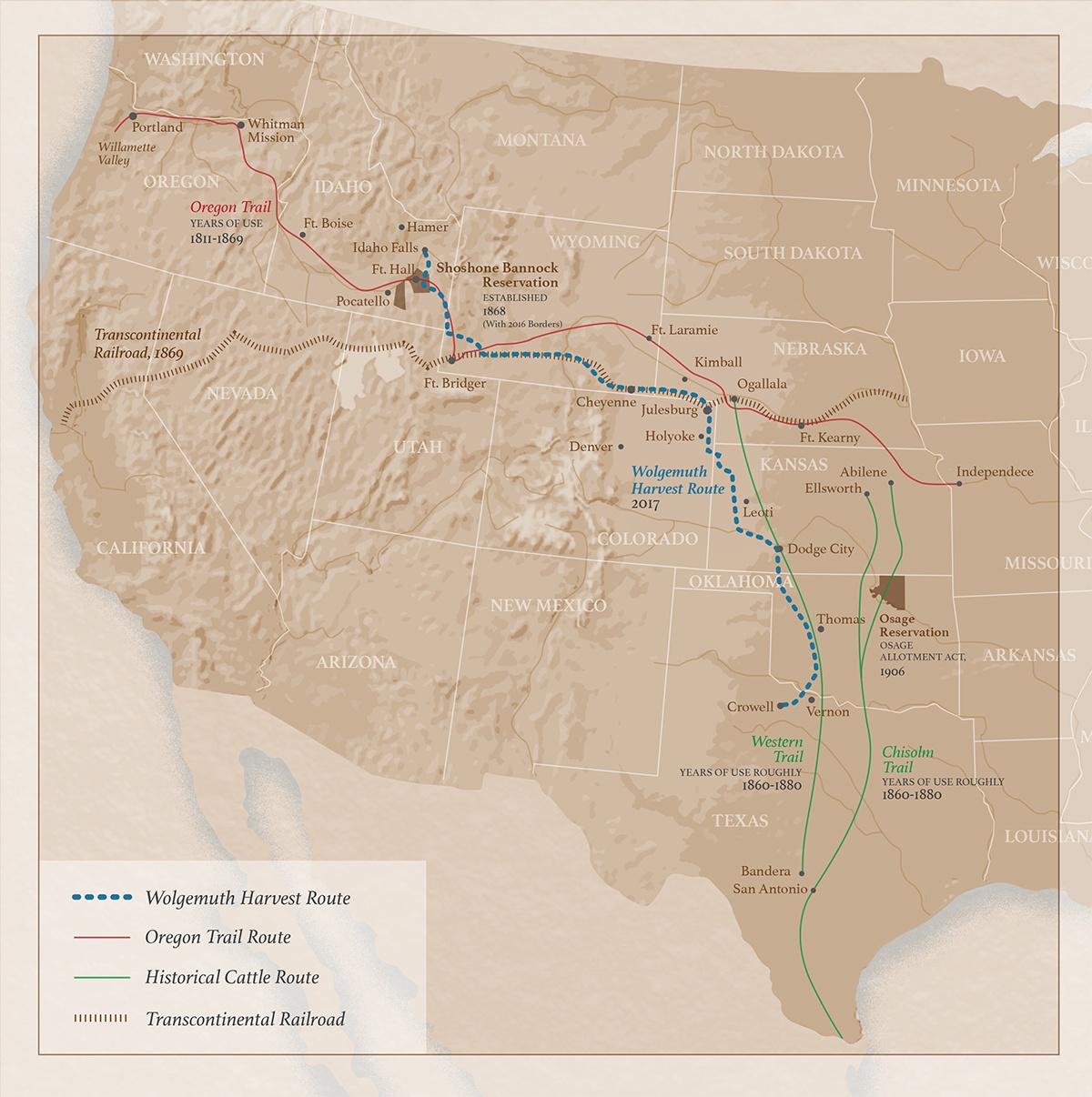 As Mockett travels, she realizes that she is crossing trails first laid down in a young America. In Texas and Oklahoma, the crew comes across the old Cattle Runs, which cowboys followed as they drove cows from Texas up to the Union Pacific Railway, where the animals could be sent East for consumption. The classic Larry McMurtry novel, "Lonesome Dove," is set against the backdrop of the Cattle Runs. In Nebraska, Mockett comes across the Oregon and Mormon Trails, which she and the crew mirror as they push west to Idaho, and encounter descendants of Mormon settlers. Traveling these routes brings Mockett face to face with the often uncomfortable origins of the American story, and prompts her to wonder how the twin stories of America can ever be reconciled.
AMERICAN HARVEST PEOPLE
In American Harvest, Eric Wolgemuth is a fifty seven year old farmer and custom harvester from Lancaster County, Pennsylvania. A devout Christian, Eric shares his knowledge of the Great Plains and her people, with Marie, along with his understanding of Jesus and the Christian faith. A thoughtful, practical, deeply compassionate man, Eric strives to understand Marie's more secular, cosmopolitan and urban world in return.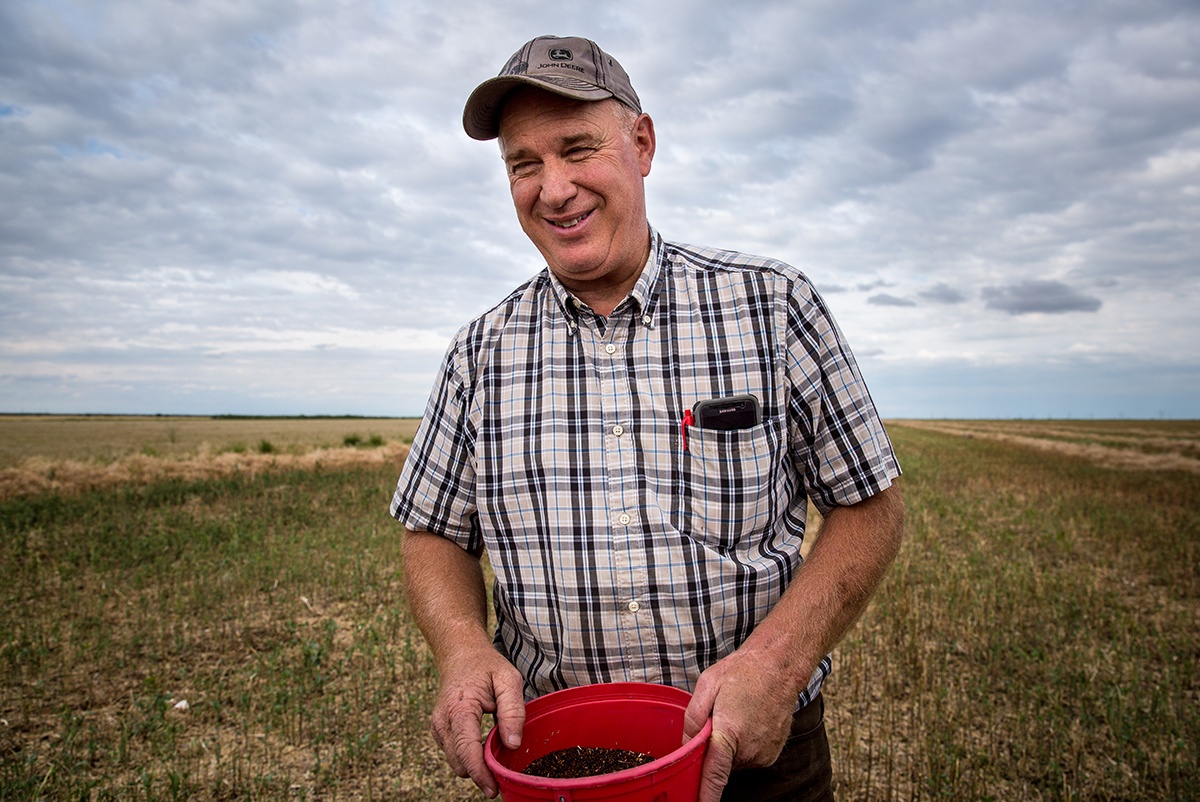 Juston is the twenty-three year old son of Eric. The only member of the crew who is attending a four year college, Juston often feels out of place on the crew of young farmers who are comfortable with machinery and heavy equipment. Juston is a sensitive thinker and a reader of books, and has had a significant crisis of faith, after an early attempt at becoming a pastor. He shares his thoughts on what ails the modern American evangelical church with Marie, thus helping to demystify a culture which otherwise feels alien to her.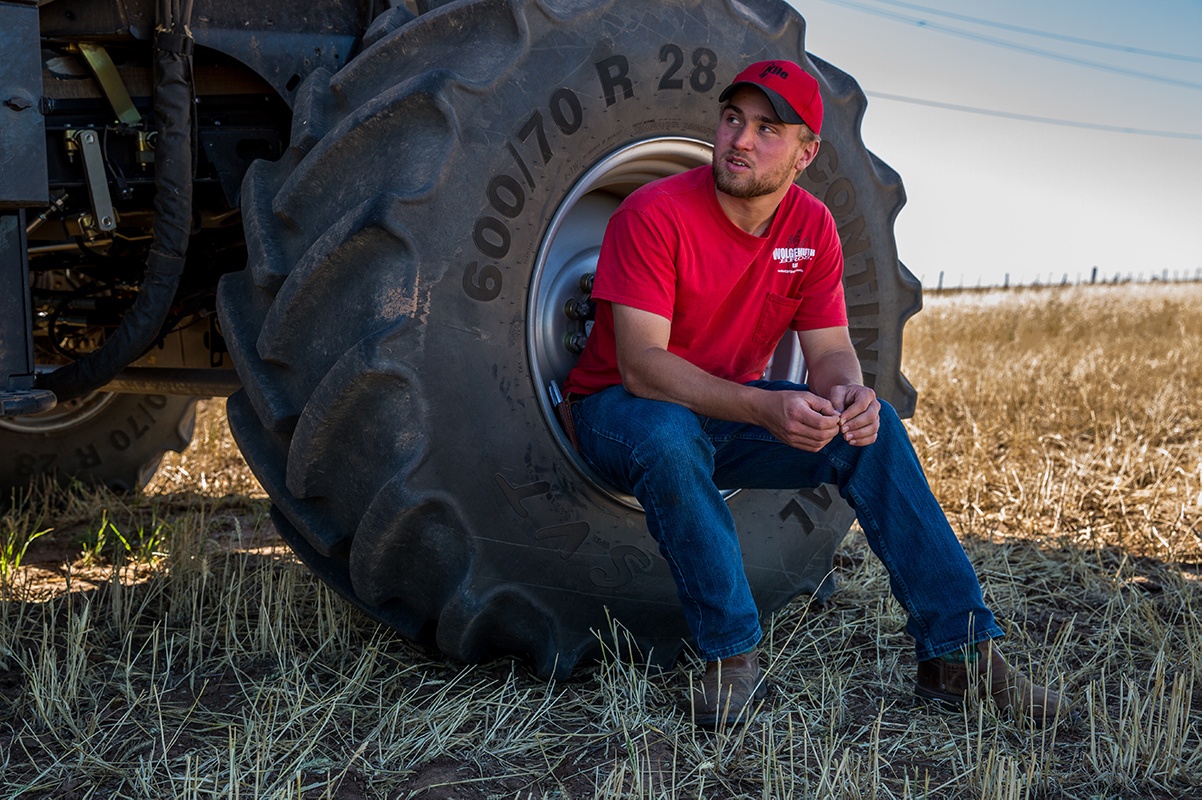 Photo credit by Sumaya Agha
THE MOCKETT FAMILY
The Mocketts have owned their family farm for over 100 years. Great grandfather, Percy Mockett, was born in London in 1874 and came to the United States with his family in the late 19th century, crossing the Atlantic in a boat that took 3-4 months. Though poor, the family focused on education. When Percy contracted tuberculosis he went west to Denver, for the dry air. While there, he became a doctor, and moved to Kimball, Nebraska, to be both the town doctor and the Union Pacific doctor. He drove his horse and buggy from homestead to homestead treating sick farmers and was famous for staying awake for three weeks straight during the 1918 flu epidemic. He had two children, including Paul, Marie Mockett's grandfather.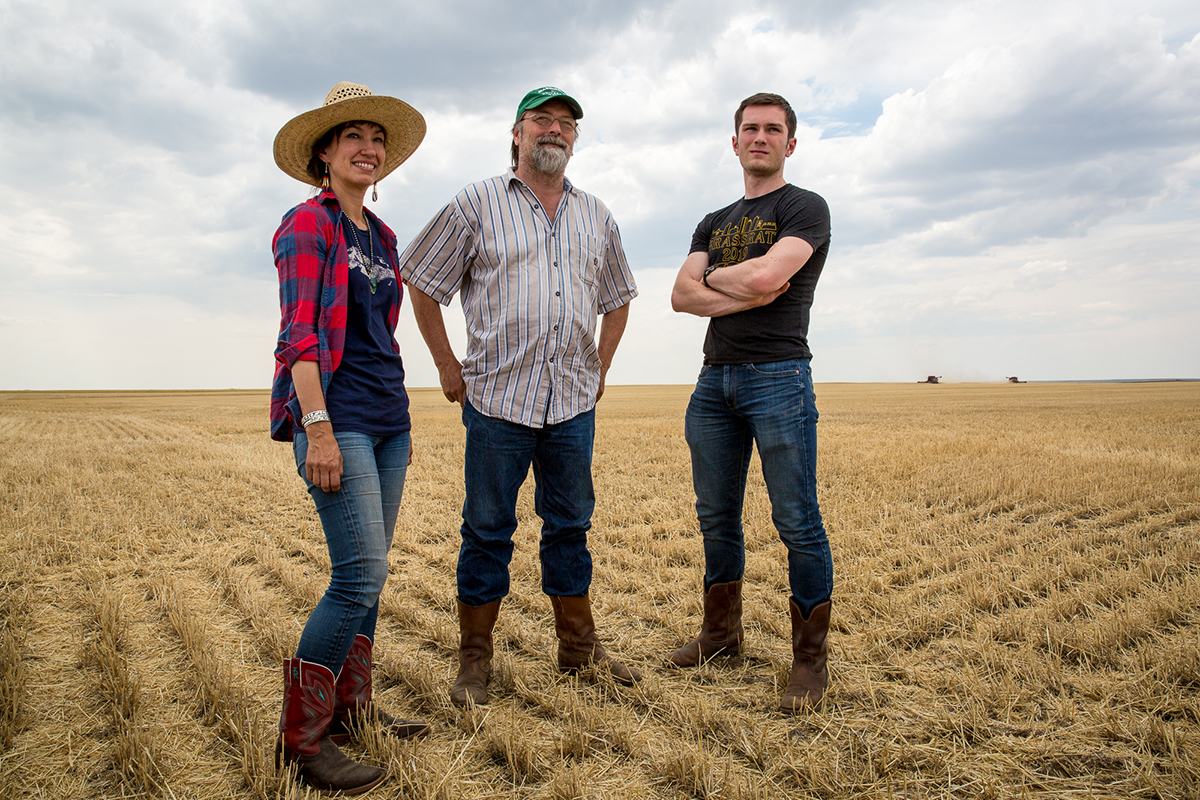 The Markleys came to the United States from Germany in the 18th century, first settling in Lancaster County, Pennsylvania before heading to the Indiana and Michigan border, where great grandfather Melvin, was born in 1862. He and his family then came to Nebraska in 1885 and in 1893 received 160 acres of Nebraskan land from the US government via the Homestead Act. Melvin became the town dentist. (9) He had three children including Marie's grandmother, Luella.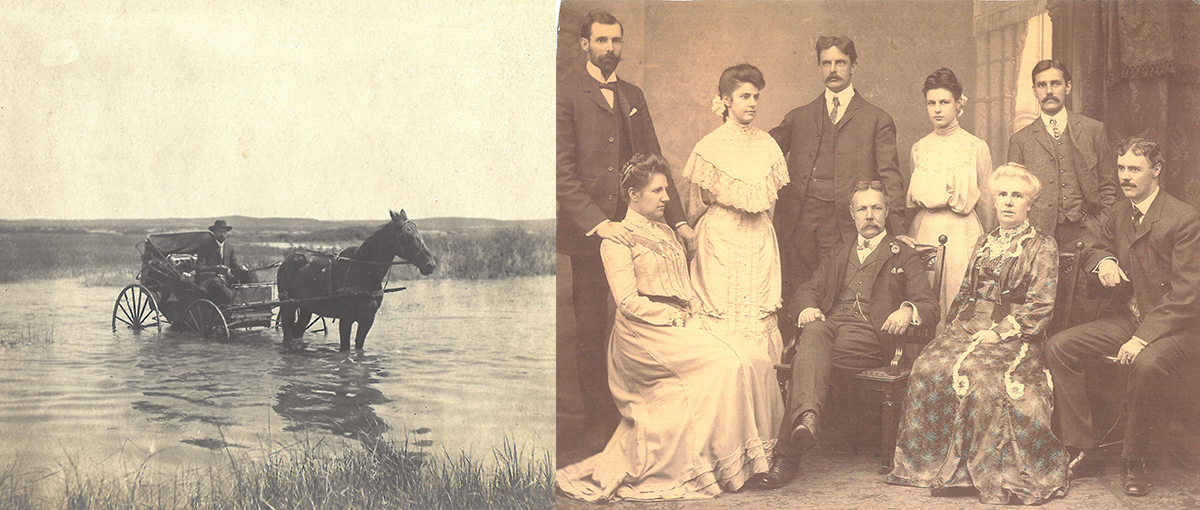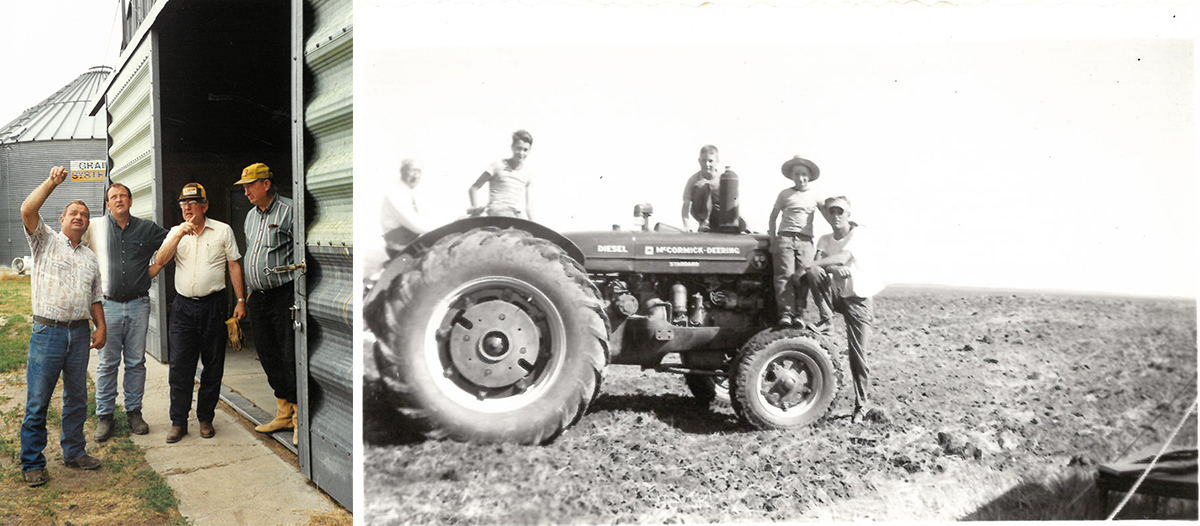 When Paul and Luella married—the son of the town doctor and daughter of the town dentist—the two wealthiest families in town were united. They continued to make farming a part of their activities, though not the sole professional focus. At its peak, the farm was 7000 acres. The Mocketts alternate the fields planted each year, which means that in any harvest season, they need to cut around 3,000 acres. Since the 50s, in addition to employing farmers who live in Kimball to plant and maintain the fields, the Mocketts have hired "custom harvesters," crews of men who follow the wheat belt as it begins to ripen, first in Texas in May, and on up to Montana and Idaho in September.