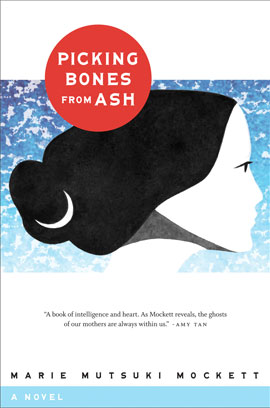 "[Picking Bones from Ash], so firmly anchored in a sensuous reality, veers into a dream world. A reader has the sense that even the author was driven by her most powerful character: the original mother, raising her daughter alone, shunned by villagers, forced to make decisions that haunt her descendants." LA Times
Description of book
My mother always told me that there is only one way a woman can be truly safe in this world. And that is to be fiercely, inarguably and masterfully talented.
No one knows who fathered eleven-year-old Satomi, and the women of her 1950s Japanese mountain town find her mother's restless sensuality a threat. Satomi's success in piano competitions has always won respect, saving her and her mother from complete ostracism. But when her mother's growing ambition tests this delicate social balance, Satomi's gift is not enough to protect them. Eventually, Satomi is pushed to make a drastic decision in order to begin her life anew. Years later, Satomi's choices echo in the life of her American daughter, Rumi, a gifted authenticator of Asian antiques. Rumi has always believed her mother to be dead, but when Rumi begins to see a ghost, she wonders: Is this the spirit of her mother? If so, what happened to Satomi?
Picking Bones from Ash explores the struggles women face in accepting their talents, and asks what happens when mothers and daughters dare to question the debt owed each other. Fusing imagination and suspense, Marie Mutsuki Mockett builds a lavish world in which characters journey from Buddhist temples to the black market of international antiques in California, as they struggle to understand each other across cultures and generations.
Published on October 1st, 2009, by Graywolf Press, Picking Bones from Ash was shortlisted for the 2010 Saroyan Prize, a Finalist for the 2010 Paterson Fiction Prize, and long-listed for the Asian American Literary Awards. Amy Tan praised the novel as "a book of intelligence and heart," and Publishers Weekly declared "In this ambitious debut … Mockett succeeds where others fail: making the reader care."
"Marie Mockett brings postwar Japan into the 21st Century with sensitivity and grace, drawing the lives of three women to illuminate the tension between two cultures. Picking Bones from Ash is a lovely book."―KIT REED

"In Marie Mockett's first novel―which ranges in confident and lovely prose from a mountain town in mid-century Japan to an antiques business in contemporary San Francisco―temples, ghosts, and oni demons aren't inert markers of exoticism: they're embedded in a lived web of human relationships and everyday tasks. Beginning in a world as solid as Jane Smiley's A Thousand Acres, Picking Bones from Ash takes the reader down a rabbit-hole as matter-of-factly supernatural as that of Haruki Murakami's Wind-Up Bird Chronicle. This wiry and delicate novel, as grounded as it is surreal, goes down like a tall glass of water. Except it's spiked: like Rumi, the younger of Mockett's two heroines, you will be haunted until you finish this book." ―ELLIS AVERY

"Remarkable and arresting, this debut has the pleasures of a fairy tale and a novel at the same time. Mockett probes the family mythology of a very peculiar line of talented Japanese women who may or may not be descended from the Princess of the Moon, and spins the tale of how they survived post-war Japan, modernity and life in America. A spellbinding new talent." ―ALEXANDER CHEE


"Mockett has made an impressive debut with Picking Bones from Ash. Here, she creates a fully-absorbing world with vivid characters who search for what was painfully lost to them. Mockett is a beautiful writer." ―MIN JIN LEE, author of Free Food for Millionaires 
Buy it at
Amazon
Barnes and Noble
Indiebound
Download Bookclub Questions