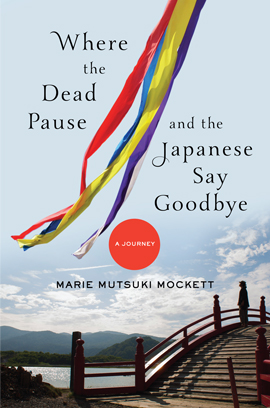 Reviews | Excerpt | Press Release
"Grief is not a one-way street in Japan,  for the dead miss us as much as we miss them."
How does one cope with overwhelming grief?
Marie Mutsuki Mockett's family owns a Buddhist temple 25 miles from the Fukushima Daiichi nuclear power plant. In March 2011, after the earthquake and tsunami, radiation levels prohibited the burial of her Japanese grandfather's bones. As Japan mourned thousands of people lost in the disaster, Mockett also grieved for her American father, who had died unexpectedly.
Seeking consolation, Mockett is guided by a colorful cast of Zen priests and ordinary Japanese who perform rituals that disturb, haunt, and finally uplift her. Her journey leads her into the radiation zone in an intricate white hazmat suit; to Eiheiji, a school for Zen Buddhist monks; on a visit to a Crab Lady and Fuzzy-Headed Priest's temple on Mount Doom; and into the "thick dark" of the subterranean labyrinth under Kiyomizu temple, among other twists and turns. From the ecstasy of a cherry blossom festival in the radiation zone to the ghosts inhabiting chopsticks, Mockett writes of both the earthly and the sublime with extraordinary sensitivity. Her unpretentious and engaging voice makes her the kind of companion a reader wants to stay with wherever she goes, even into the heart of grief itself.
Where the Dead Pause and the Japanese Say Goodbye was a New York Times Editors Choice, a Barnes and Noble Discover Pick, an Indie Next Pick, a Finalist for the 2016 Pen Open Book Award, a San Francisco Chronicle Best Book of 2015 and a Finalist for the Indies Choice Best Book for Adult Nonfiction for 2016. "Where the Dead Pause, and the Japanese Say Goodbye" is now available in paperback.
Order:
Amazon
Barnes and Noble
Powells
WHERE THE DEAD PAUSE REVIEWS
"Read it. You will be uplifted." Ruth Ozeki, Zen priest, author of A Tale for the Time Being
"Richly layered in culture and insight, Mockett takes us on a compelling and illuminating journey of the heart and soul." Gail Tsukiyama, author of A Hundred Flowers
"A beautiful tale that is part evocative travelogue and part lyrical meditation on grief, this soulful and haunting book made me cry in a way I like to cry when reading a good book." Heidi W. Durrow, New York Times best-selling author of The Girl Who Fell from the Sky
"What a remarkable and moving book about traveling from one land to another, and learning different ways of coming to terms with death amid life. Engrossing and powerful, it speaks volumes about the many ways people grieve and live." Will Schwalbe, author of the New York Times bestseller The End of Your Life Book Club
"An intriguing… travelogue through a landscape of Japanese spiritual belief, with forays into history, folklore, and memoir. [Mockett] has the ability, fully available only to those on the margins, "to see through more than one set of eyes, if one learns to pay attention to one's environment." It is this gift of double-sightedness, of bringing to bear both the "dry" rationality of the West and the "sticky" sensibilities professed by the Japanese, that makes this the most interesting book so far to have come out of the disaster." Richard Lloyd Parry – New York Times Book Review
"A poignant spiritual journey through Japan…Touching on themes of modernity and tradition, Mockett takes part in various religious customs to come to terms with her grief and understand her mixed-cultural heritage." Publishers Weekly
"Mockett mixes memoir, travelog and a study of the sociology of death to look at how the unique character of Japanese spirituality helps individuals and the nation cope with loss…This illuminating journey through loss, faith and perseverance will appeal to both readers of Pico Iyer and current nonfiction on death culture…The author's unique access to Buddhist priests gives the reader a rare view into one of the richest death cultures in the world." STARRED REVIEW, Library Journal
"Part memoir, part travelogue and part investigation into the rituals and beliefs surrounding the "great parting" in Japan, "Where the Dead Pause" is a fascinating, wide-reaching exploration of the religious and cultural elements of this island nation. Woven into descriptions of crumbling temples and devastated landscapes is the author's unresolved grief about her father's unexpected death." San Francisco Chronicle
"Mockett's travels in Japan affirm the lost art of pilgrimage, a participatory form of mourning that relies on collective experience as a powerful consolation for loss. If grief really is a two-way street, to reach the dead sometimes we have to start walking. Chances are good we will meet others on the same road, lit with lanterns, littered with blossoms." Los Angeles Review of Books
"The resulting book, written as a series of connecting essays, neither leads with a scheduled agenda nor lapses into a rehearsed guide for dealing with grief. It is instead a wonderfully authentic journey into people and places, with a mother and her child who find and forge lasting connections. Mockett lingers in the worlds of strangers, taking the reader to Cafe de Monk and sharing the inspirational story of the Zen priest Kaneta Taiou who runs it; then a heartbreaking story in Tohoku of a slowly healing grandmother; Mount Koya, where Mockett exchanges whispers in the bath with a lively woman and her daughter; and, finally, to Osorezan, where Mockett waits in line for hours to speak with one of the last remaining itako (Japanese female shaman), making a lasting friend in the process." The Japan Times
"Mockett skillfully knits together a portrait of loss and recovery, pulling together many individuals' experience of grief into a collective search for peace." Minneapolis Star Tribune
"Mockett's books is a moving and lyrical account of her physical and emotional journey to a side of Japan few of us are ever privileged to see." The Literary Review
"Trapped between two cultures, she has written an odd, revealing and at times very painful book. However, the narrative is ultimately consoling." The Irish Examiner
Finalist for the PEN Open Book Award
Finalist for the Indies Choice Book of the Year Adult Nonfiction
WHERE THE DEAD PAUSE EXCERPT
"Owakare: The Great Parting," featured in Narrative Magazine.
WHERE THE DEAD PAUSE PRESS RELEASE
FOR IMMEDIATE RELEASE Contact: Erin Lovett
Publicity Director
212-790-4388
elovett@wwnorton.comWhere the Dead Pause, and the
Japanese Say Goodbye: A Journey
by Marie Mutsuki Mockett
 After the March 11, 2011 tsunami that claimed more than 18,000 lives in Japan, a Buddhist priest named Morita noticed that the many aid workers he was counseling were afraid to speak to the grieving and dying. He wondered if it was because as they did so, they too were forced to face the difficult truth that their lives would one day come to an end. But instead of letting the volunteers sink into depression over this fact, Morita helped them to see that deeply understanding this universal fear of death was exactly what would make them better able to help others deal with their grief.In Where the Dead Pause, and the Japanese Say Goodbye: A Journey (W. W. Norton & Company; Pub date: January 19, 2015; $26.95, hardcover), Marie Mutsuki Mockett travels to Japan in search of healing for a grief so profound, that she despairs of ever feeling "normal" again. Having lost both her Japanese grandparents and, unexpectedly, her beloved American father, Mockett travels to her family's Zen Buddhist temple to bury her grandfather's ashes, but the radiation released after the explosion of the Fukushima Daiichi nuclear reactor makes it impossible to carry out the funeral. Seeing up close the devastation wreaked by the tsunami, Mockett is compelled to understand how the Japanese are dealing with this massive loss of life.
 At the same time, she vows to share with her young, Japanese-speaking son as much of her rich cultural history as her mother and grandmother shared with her.Where the Dead Pause is part memoir, part travelogue, part investigation of death and the Japanese ceremonies that surround it, as well as one woman's moving account of her quest for healing and happiness. From ghosts to blind mediums to exorcists and eccentric priests, Mockett meets a colorful cast of characters who teach her about the meaning of life, death, and the power of grieving. There's Kaneta, a tireless and upbeat Zen priest whose itinerant "Café de Monk" brings food, funeral services, and sympathy to those who lost their homes or their families during the disaster. There's the Mountain Woman, an enthusiastic innkeeper who leads Mockett to the temple of Shozoku no Baba, a terrifying old hag who rules over the underworld. And Minami, the erudite vice-president of Mount Doom—the place where the dead cross into the underworld—who tells her that the point of Buddhism is to show that everyone has wounds and that grieving is the recognition of these wounds and their utter naturalness.
 In clear and accessible language, Mockett also describes the life and teaching of key Buddhist figures like Shakyamuni Buddha; Kukai, the founder of Shingon or Esoteric Buddhism; and Dogen, the father of the Soto School of Zen. She experiences firsthand the meditation and liturgical practices of each school, as well as a number of cultural and religious festivals, and carefully and methodically examines the relevance of each of these, both to the ravaged population of Japan, as well as to her own life.Like any good writer, Mockett is careful not to generalize or draw easy conclusions. Yet there are moments in her writing that clearly attempt to shed light on the fundamental questions that all human beings must grapple with. One dialogue in particular seems to speak directly to the healing that Mockett herself has been searching for. It is part of a formal interaction called "dharma combat" between the would-be abbot of a small temple and a ten-year-old boy: "What will you tell the people who lost someone in the tsunami about their loved ones?" asks the boy. "Where do the dead go?" The priest, lightly laying his hand over his chest, replies, "The dead remain in our hearts. That is the only place we will find them and the only place to look."Whether we've experienced the passing of a loved one or not, Mockett's journey shows us that personal grief is really just a speck in the communal grief of our species, much like a single floating lamp in the Japanese Obon ceremony is only a flicker in the sea of light offered on behalf of all those who've left this world before us.Where the Dead Pause is a treasure for anyone who'll ever wonder about the nature of life and death, as well as of grief and its medicine. And that, as priest Morita said, is every single one of us. Marie Mutsuki Mockett's novel Picking Bones from Ash was shortlisted for the 2010 Saroyan Prize and the Asian American Literary Awards for fiction and was a finalist for the Patterson Prize. She lives in San Francisco.
TITLE: WHERE THE DEAD PAUSE, AND THE JAPANESE SAY GOODBYE: A JOURNEY
AUTHOR: Marie Mutsuki Mockett
ISBN: 978-0-393-06301-1
PRICE: $26.95
PUB DATE: January 19, 2015
PAGE COUNT: 352 pages